Concrete Coatings in Phoenix Arizona – Professional Floor Coatings by Your Garage Cave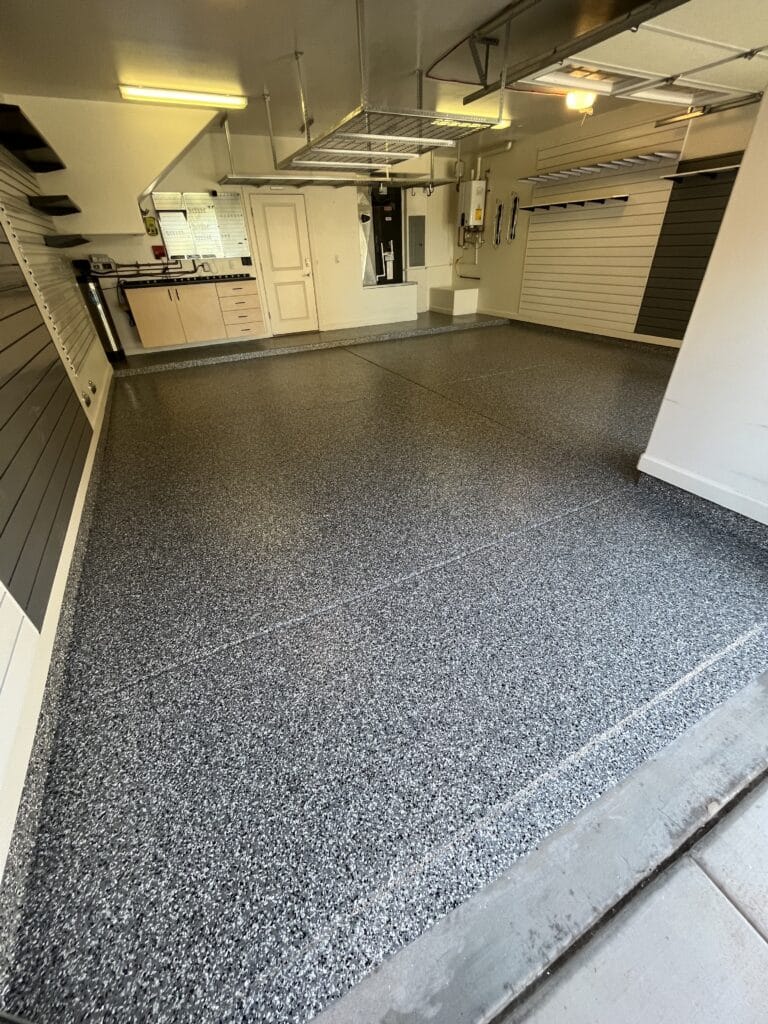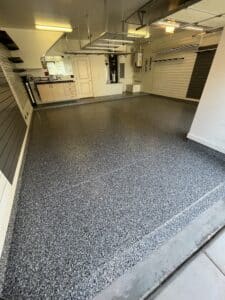 YourGarageCave.com is your local, concrete coatings Phoenix expert. Located on West Morningside Drive in Phoenix, we can be onsite and deliver a FREE ESTIMATE promptly and efficiently.
Concrete floor coatings are a great way to protect and beautify your spaces, whether for residential garage and home applications OR for commercial floor coatings. YourGarageCave.com offers ONLY the highest quality Polyaspartic Floor Coatings by FLEXMAR®.
Why FLEXMAR NextGen?
Simple.
It is BETTER than Epoxy.
Far more durable.
As or more attractive than epoxy.
Extremely affordable.
Highly customizable
Polyaspartic Floor Coatings withstand hot tire pickup.
Colors will not fade or yellow.
…and you can PREP and INSTALL in as little as four hours!
Need More!? How about this…
Your garage is a haven for you right? It isn't? Well then you're missing out!
With FLEXMAR polyaspartic concrete coatings, you can choose the look that fits you and your décor. By varying the combination of color flakes and chip size, our applicators can achieve just about any appearance for your garage floor coating.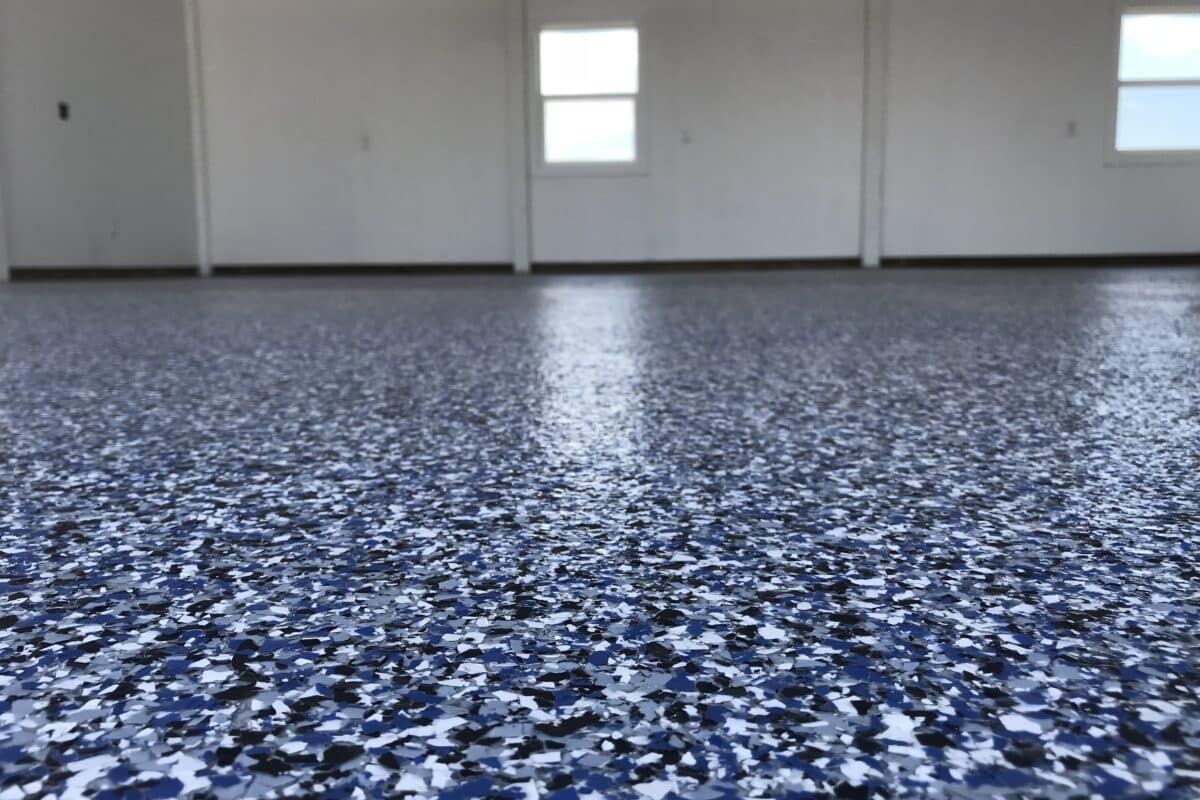 Oh yea…and…
There is virtually NO ODOR.
All Season Installation. We can do same-day application and you can return to service.
…and
Don't Overlook Your Garage
…or Concrete Coating when strategizing home improvements to increase the value of your home. Damaged and stained concrete floors are an eye-sore and they instantly creating negative "curb appeal". Concrete spaces in the home are often overlooked; however, the professional, Phoenix concrete coating installer of YourGarageCave.com are experienced and focused on providing unique, creative and affordable solutions to protect and beautify your space! Our professionals can share a myriad of Polyaspartic coatings such as:
Color Flake Polyaspartics
Metallic Polyaspartics
Quartz Polyaspartics
Reverse Flake Polyaspartics and more.
Your New Garage Floor by Your Garage Cave will be protected from dirt and all types of liquids, fluids, salt and more! The durability of Polyaspartic Concrete Garage Coatings is second to no other option. Garage flooring firms have popped up all around Phoenix and the surrounding area, but don't trust your garage to just any firm. Check out some of our reviews:
Kitzie Cribbs wrote:
Positive: Professionalism, Quality, Responsiveness, Value
I was very pleased working with this company. I met Char (the owner) at the Home Show and she's very personable and doesn't talk over your head. The 3 guy crew started at 8:30 and was done by 1:30. They were very professional and cleaned up the area well.
Highly recommend this company!!!
Service: Commercial floor coating
JT wrote:
Positive: Professionalism, Punctuality, Quality, Responsiveness, Value
Char and Dave are an absolute delight to deal with.  It's nice to find people that still take pride in their work.  My garage floor and overhead racks came out fantastic.  I'm so happy I found the company and I love my new floor.  Just a heads up their product is superior to what others are probably offering you and they're not price gouging like several shops out there.
Char and Dave thank you both so much for taking care of me and my family!  My garage is perfect!
Services: Install flooring, Repair flooring
Phoenix Arizona Concrete Coatings Expert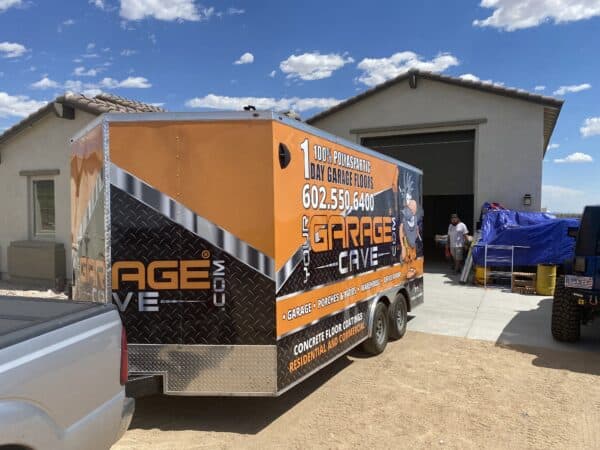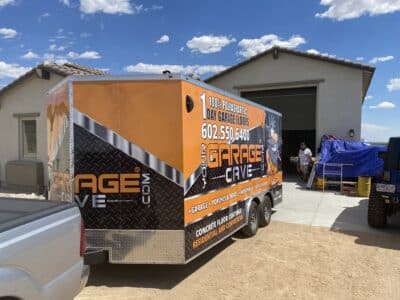 Trained YGC employees will arrive on the morning of your job, no subcontractors.  Many other companies subcontract their installs to whoever will show up to pull their trailers.  These subs only care about a quick install, time is money, and care little about the quality of your new floor.
Whether you are looking for a new floor application or repair of a worn-out, stained and chipping garage floor, the team at Your Garage Cave can help you plan and implement a more modern, polished and beautiful concrete floor.
We also offer our concrete flooring services across Phoenix to improve concrete surfaces, such as garages, patios, showrooms, driveways, and more.
A Multitude of Color and Flake Options!  EZ Interest Free Financing!
Check out our Concrete Coatings Phoenix Color Swatches
We have so many chip colors, solid colors, metallic colors, quartz colors and more.
We also invite you to view our Before and After Gallery to see how we can take your old, worn out, stained and chipped concrete and make it a focal point of your home or garage.
Highly Rated!
We know that most people now check out reviews and testimonials to make important decisions like who to trust to install concrete coatings. Your Garage Cave has dozens of 5-star concrete coating reviews from Google, Yelp,  HomeAdvisor, TopRatedLocal and more.
Steve M. recently posted:
Your Garage Cave did an outstanding job on my garage floor. Very professional, clean, completed as promised, at a very competitive price! I would recommend Your Garage Cave to friends and family.
Be Confident in YOUR Garage Floor Coatings expert!
Many competitors do not know what is in the material they install on floors. Many of the installers that are franchisees say they buy from the franchisor. However, franchisors have the product private labeled and do not manufacturer the product. Very few national franchise garage flooring company franchisees actually know what product they are using nor can they produce Technical Data Sheets.
FLEXMAR® – was the first to introduce polyaspartics to the floor coatings industry since 2006!  Jack Bracco, our chemist provides us with tools to help you learn what companies are hiding about their base coats.  The time it takes to complete and walk-on times are the first indicator.
Your Garage Cave has provide a helpful guide to homeowners to get the best intel before making a decision as to whether to use epoxy or Flexmar NexGen coatings. There are many questions that should be asked and answered to make an informed decision as to which concrete coatings installer in Phoenix, Arizona should be YOUR garage floor coating expert. We believe the data reveals that Your Garage Cave is the best choice.
Check out this handy Guide to Garage Floor Questions and Answers
We are licensed, bonded and insured and invite you to Get a Free Quote by calling us or simply clicking here .